Drury Lane deals a winning hand with 'The Gin Game'
July 03, 2017 at 12:42 PM
Original Article: http://chicagotheaterandarts.com/#sthash.RuY4ihRI.oG4VR89l.dpbs
In both life and cards, we must play the hands we are dealt. That truism is powerfully revealed in Pulitzer winner "The Gin Game" now playing at Drury Lane Theatre in Oakbrook Terrace.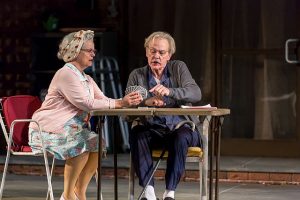 Paula Scrofano and John Reeger in 'The Gin Game' at Drury Lane Theatre. Photo by Brett Beiner
Fonsia Weller and Weller Martin are two reluctant residents of a shabby senior-living home, having run out of money and options. They strike up an acquaintance and begin playing gin to pass the time. As their games and conversation progress intimate secrets are revealed and they begin to discover each other's weaknesses in both cards and life.
The two-character drama by D.L. Coburn brings together the legendary talents of real-life married couple and Jeff Award winners Paula Scrofano as Fonsia and John Reeger as Weller. They dodder and totter about the stage as though the infirmities of advanced age were real.
Both exhibit vast emotional range as the relationship between their characters builds to its explosive conclusion.
Scrofano and Reeger have appeared in over 150 plays in the Chicagoland area, 30 of them at Drury Lane. With "The Gin Game," they join an illustrious roster of duos who have performed these roles, among them Jessica Tandy and Hume Cronyn, Mary Tyler Moore and Dick Van Dyke, and Cicely Tyson and James Earl Jones.
The Drury Lane production is artfully directed by Ross Lehman, who last directed the couple in 1986.
The show begins before the audience is fully seated as two non-speaking crew members dressed as nursing aides in medical scrubs set the stage with apathy. They lounge about, one smoking a cigarette and checking her cell phone, and the other reading a magazine. They grudgingly leave only when Weller enters the scene.
Kudos also to the creative team which includes scenic designer Katherine Ross, lighting designer Lindsey Lyddan and projection designer Mike Tutaj.
Drury Lane is known for highly detailed set design, and the "Gin Game" follows suit. The play takes place on an unkempt patio, which is decked out with mismatched furniture, an overturned chair, stray hoses and flower pots, and a weary-looking Santa Claus yard ornament. At the back of the set, images of the home's resident activities, drab furnishings and medical equipment are projected at intervals to reveal the hopelessness inside.
"The Gin Game" is not a pleasant story. The subject matter is bleak, and the second act especially is pounded with profanity. But it's worth seeing, just to watch theater icons Scrofano and Reeger in yet another transformation.
DETAILS: "The Gin Game" is at Drury Lane Theatre, 100 Drury Lane, Oakbrook Terrace through Aug. 13. For tickets and other information, call (630) 530-0111 or visit Drury Lane Theatre.
By Pamela Dittmer McKuen