'Joseph and the Amazing Technicolor Dreamcoat' – a new and different kind of dream
January 28, 2018 at 4:17 PM
Original Article: http://chicagotheaterandarts.com/2018/01/28/joseph-and-the-amazing-technicolor-dreamcoat-a-new-and-different-kind-of-dream/#sthash.2PndrFWu.Qj9DEVOh.dpbs
HIGHLY RECOMMENDED
The first thing to know about the 'Joseph and the Amazing Technicolor Dreamcoat' production at Drury Lane Oakbrook is this isn't the Sunday School version. Unlike the customary fare from the west suburban playhouse, it's not even family-friendly entertainment.
That's because director Alan Souza has boldly re-imagined the beloved Old Testament tale as a campy, Las Vegas-style spectacle complete with feather-clad showgirls, drag queens and celebrity impersonators.
The main action has been moved from pyramid-dotted Egypt to the pyramid-shaped Luxor Hotel on Las Vegas Boulevard.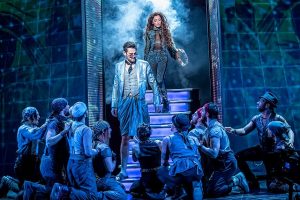 Christina Bianco (top), Evan
Alexander Smith (center) and Joseph's brothers. Photo by Brett Beiner.
 Andrew Lloyd Webber's music and Tim Rice's lyrics, however, are largely preserved.
You'll find the production either heretical or heap big fun. We choose the latter.
 The musical begins with modern-day, travel-weary Joe, played by Evan Alexander Smith, arriving at his hotel room and climbing into bed for sleep.
A series of dreams reveals the story of the biblical Jacob and his 12 sons. Most notable of the dozen is the favored Joseph, to whom he gives a colorful coat. Thus launches a well-known biblical odyssey.
In Souza's re-telling, past and present legends of the Strip, including Siegfried and Roy and their white tigers, appear along the way.
 Joe's dreams are narrated by songstress Christina Bianco and acted out by a talented cast. Bianco is an international YouTube sensation with more than 24 million views. Her vocal impersonations of the world's greatest divas show astounding versatility and range.
She's the production's powerhouse, but Smith holds his own in solo numbers "Any Dream Will Do" and "Close Every Door."
 Colte Julian captures the room with his portrayal of the Pharaoh a la Jerry Lee Lewis at a sparkly silver grand piano. It's understandable. He performed the role of Lewis for five years with national and Chicago productions of 'Million Dollar Quartet.' At Drury Lane, he is accompanied by the dancing brothers, who are attired in black sequined pants.
 As a troupe, the brothers are highly adaptable. Their dance routines are high-spirited and precise, and their vocal rendition of "Those Canaan Days" is soulful.
 Special mention must be given to choreographer Grady McLeod Bowman. A highlight of the show is the Act One finale: "Go Go Go Joseph," a song-and-dance ensemble number that is sure to delight mature audiences.
 In addition to Souza and Bowman, the creative team includes scenic designer Kevin Depinet, costume designer Ryan Park and lighting director Lee Fiskness. The Drury Lane Orchestra is led by conductor and keyboardist Alan Bukowiecki.
NOTE: This production is recommended for audiences age 13 and over as it includes adult content. Children under age 6 will not be admitted.
 DETAILS: 'Joseph and the Amazing Technicolor Dreamcoat' is at Drury Lane Theatre, 100 Drury Lane, Oakbrook Terrace, through March 25, 2018. For tickets and other information, call (630) 530-0111 or visit Drury Lane Theatre.
 Pamela Dittmer McKuen