South Pacific' enchants the evening with romance and hi jinks
April 18, 2018 at 5:15 PM
Original Article: http://chicagotheaterandarts.com/2018/04/18/south-pacific-enchants-the-evening-with-romance-and-hi-jinks/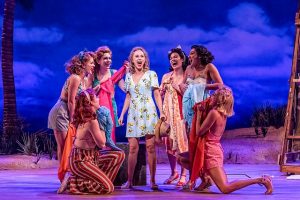 Samantha Hill (Nellie), center, Rachel Osting, Erica Evans, Ashley Jane Lanyon, Kayla Boye, Allie Dandy Pizzo and Erica Stephan in 'South Pacific' at Drury Lane Theatre. (Brett Beiner photo)
Nearly 70 years after winning 10 Tony Awards, including Best Musical, 'South Pacific' mostly wears well at the Drury Lane Oakbrook revival.
The entire cast is stellar, the beloved Rogers and Hammerstein standards are well-tuned and racial conflict remains a relevant issue.
The action centers around a naval base in the South Pacific island amid World War II. During a lull in the fighting, the players engage in merrymaking and fall in love.
Leading the cast are Robert Cuccioli and Samantha Hill, both with Broadway cred. Well-matched in vocal fortitude, he plays dreamboat French ex-pat and plantation owner Emile de Becque, and she is Ensign Nellie Forbush, a sweet young nurse from Little Rock. They're an unlikely pair, but chemistry reigns. (Younger audiences might not get her reference to being a Dinah Shore fan.)
A secondary couple is the dashing Lt. Joseph Cable, played by Austin Colby, and his local girlfriend, Liat, portrayed by Sarah Lo.
The laughs are in full force in this tropical paradise. Matt Crowle shows strong comedic chops as Seabee Luther Billi, who always has one scheme or another going on. Yvonne Strumecki as Bloody Mary is not only hilarious but a powerful vocalist as well.
It's all fun and frolic until Nellie discovers Emile has two children by his late Polynesian wife. Modern audiences might wonder what's the big deal, but Nellie flees the relationship because they are biracial. And Cable wistfully concludes he cannot marry Liat because she is Tonkinese.
The defining moment is Cable's lament and Colby's passionate rendition of "You've Got to Be Carefully Taught" to be prejudiced against those who are different. Cable and Nellie seem to have all-too-abrupt turnarounds in their views, but the song is a message of tolerance that bears repeating today.
'South Pacific' premiered on Broadway in 1949 with music by Richard Rogers and lyrics by Oscar and Hammerstein II. The musical is based on the book by Hammerstein II and Joshua Logan.
At Drury Lane, the musical is artfully directed by Victor Malana Maog who grew up listening to show tunes in the Philippines during Ferdinand Marco's martial law.
Other notable members of the creative team are choreographer Otis Sallid, music director Roberta Duchak and sound designer Ray Nardelli. The Drury Lane Orchestra is led by conductor and keyboardist Christopher Sargent.
DETAILS: 'South Pacific' is at Drury Lane Theatre, 100 Drury Lane, Oakbrook Terrace, through June 17. unning time: 2 hours, 30 minutes with one intermission. For tickets and other information, call (630) 530-0111 or visit DruryLane Theatre.
Pamela Dittmer McKuen